For Immediate Release.
March 17, 2016 - Saskatoon: While many Canadians know the danger of breathing carbon monoxide, a new report from Statistics Canada shows that just over half the population knows the danger of breathing radon gas.
Carbon monoxide, often called "the silent killer" is an invisible gas that comes from burning fuel like oil, gas, wood, coal and propane. Carbon monoxide can be present in your home or cottage at any time of the year. However, the risk is greater in winter months because homes in Canada are usually heated using furnaces and wood stoves. According to Statistics Canada, there were 380 deaths caused by carbon monoxide in Canada between 2000 and 2009.
"Radon can also be considered 'a silent killer'," explains Kelley Bush, Head of Radon Education and Awareness at Health Canada. "Radon is also an invisible, odourless gas that is very dangerous when inhaled. The difference is that breathing carbon monoxide can cause serious health effects in a short period of time while the development of lung cancer from radon exposure is long term, not immediate."
Health Canada estimated that 3,200 Canadians die of radon-induced lung cancer every year. It is the leading cause of lung cancer in people who do not smoke. Every home in Canada is going to have radon in it; the question is how much. The only way to know how much radon you have in your home, is to test.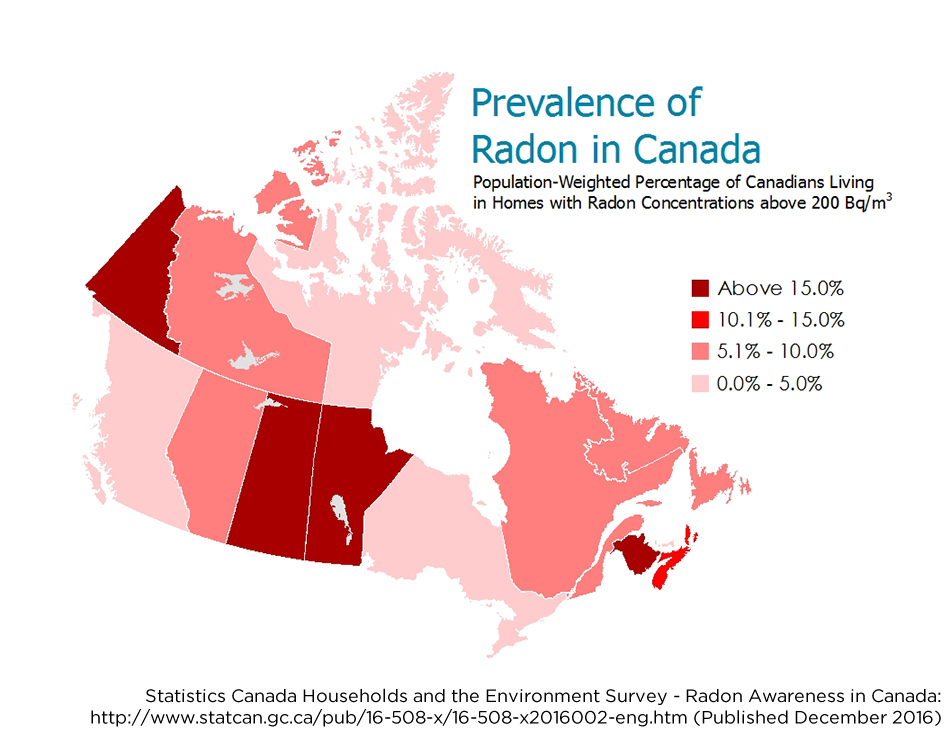 Statistics Canada reports that 60% of Canadian households have carbon monoxide detectors installed whereas only 6% of Canadian households have tested for radon.
Health Canada estimates that 16% of households in Saskatchewan have high radon levels but the newest report from Statistics Canada shows that only 7% have tested. In some areas of the province as many as one in four homes are above Health Canada's radon action guideline of 200 Bq/m3.
"Since 2013, when the first Radon Action Month campaign was launched, we've seen an increase in the number of people in Saskatchewan becoming aware of radon and its health effects resulting in an increase in the number of people testing their homes for radon," said Jill Hubick, Certified Respiratory Educator with The Lung Association of Saskatchewan. "We are proud of the awareness and education work we've done as a national network and we are eager to continue that important work. But we need to get more Canadians testing and reducing their radon levels. Radon is a very dangerous health risk but it's also one that is very easy to fix."
If you've tested your home, and the radon concentration is above the Canadian guideline of 200 Bq/m3, Health Canada recommends that you take action to lower the concentrations. The higher the radon concentrations, the sooner action should be taken to reduce levels to as low as practically possible.
Hubick reminds the people of Saskatchewan that long-term radon test kits and certified radon professionals are available to residents. Radon test kits can also be purchased from The Lung Association at www.sk.lung.ca/radon. "The good thing is that it's not too late to take action on radon. All you need to do is test, reduce and breathe easy."
- 30 -
Contact:
Jill Hubick, BKin, BSN, RN, CRE
Registered Nurse, Certified Respiratory Educator
The Lung Association, Saskatchewan
306-343-9511