December 21, 2016 -  Dr. Brian Graham, CEO of The Lung Association of Saskatchewan and world leader in lung health research is retiring after 32 years.
There are few defining moments and activities in the history of The Lung Association that Dr. Brian Graham has not facilitated, guided, supported, or established. Brian is one of three individuals who has ever held the position of CEO in the 105 year history of this organization. His 32 years as CEO will come to an end on December 31 of this year as he looks forward to retirement.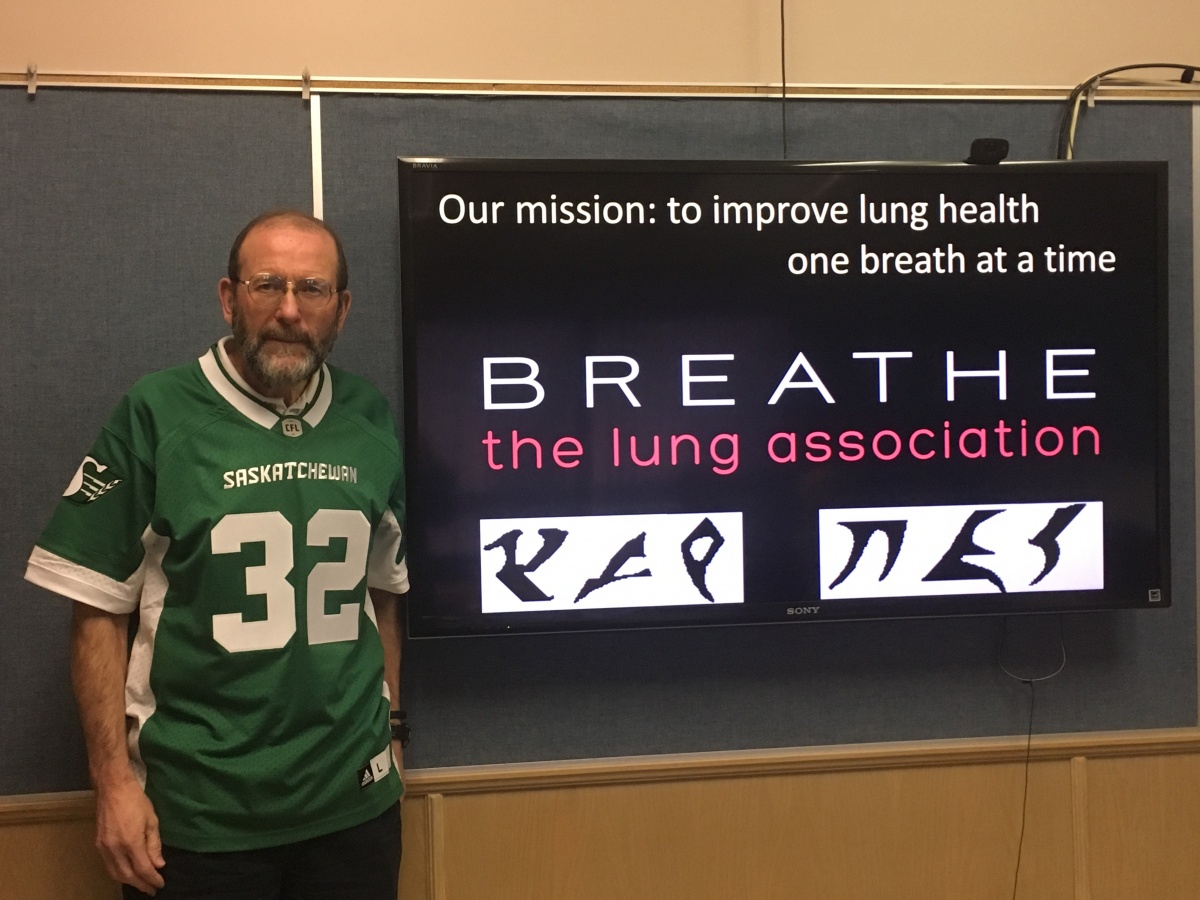 Brian Graham wears Rider jersey with the number 32, representing his 32 years of service to The Lung Association of SK.
With a PhD in biomedical engineering Brian became involved in respiratory health long before he began his career as the Executive Director of the Lung Association. He joined the Pulmonary Division at the University of Saskatchewan setting up the pulmonary function laboratory and conducted research with Dr. David Cotton. His work, including many volunteer hours, led him to "building computers" and "writing programs" including mobile instrumentation for pulmonary function surveillance in farmers, grain handlers, and potash workers. Much of his work also was committed to TB as the Anti-TB League at that time was responsible for diagnosis, care and treatment of TB in the province. Later in his career he was asked to lead an international team to build a TB program in Ecuador because of his extensive knowledge in TB and community work.
As the CEO he has led our organization through perhaps the most significant changes in our history, including the evolution from the Saskatchewan Anti-Tuberculosis League to the Saskatchewan Lung Association in 1987 and then in 2004 to the formation of the Lung Association of Saskatchewan and the Lung Foundation of Saskatchewan.
His vision for better respiratory health for the people in our province (and beyond), his work in the community, his contribution to the Lung family as a whole, and his research accomplishments in the area of pulmonary function have earned him the utmost respect and admiration of his colleagues across the country and globally. He has been published many times, written papers, technical reports, lectured and presented at conferences.
Driven by passion for his work, determination to accomplish goals, a desire to collaborate, and a vision to improve respiratory health, Brian has helped to bring many "firsts" to our organization and province – related to pulmonary function, TB, sleep apnea, COPD, asthma, patient education, research, tobacco legislation and even the development of the national Lung Association website, one of the first of its kind, at the time, in the world. He continues to lead the development of national and global standards in pulmonary function, spirometry and diffusing capacity. 
The staff at The Lung Association thank Brian for the strong and unique leadership he has demonstrated. They want to acknowledge Brian for his commitment to his work, to the organization and the many people affected by lung disease over the last four decades of his life. There is no one they know, who has worked harder to achieve what he has; and all through this expecting no amount of recognition.  He is described by his staff and colleagues as a brilliant, humble and kind man who will be missed greatly. Thank you for all that you have done to make Saskatchewan breathe easier!